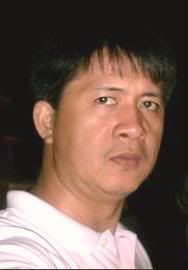 Watch a video of Roy singing his song here: http://youtu.be/-sG9pXw3Fps
Roy is a widower from Angeles City. He maintains over 10 blogs including
Roysville dot Com,
The Struggling Blogger
,
Short Stories Blog,
Travel To Angeles City,
and
Kapampangan Blog
, and sees blogging not as a hobby but as a way of life.
Read the lyrics of his song and my short interview with Roy below about this new song and how music affects his life...
"I Can Only Dream Of You" a song by Roy dela Cruz
Lying along in my bed
Trying to make it through the night
Knowing that you'll never be mine
Trying to keep it inside
The feeling that I have for you
A feeling that's out of time
Why do I have to meet you now?
When everything is out of time
Why do I have to feel this way?
A feeling that will always stay
REFRAIN:
And I can only dream of you
Lying here in my arms
Holding you close to me
So close to me
And I can only wish at the stars
In the night we'll meet again
In a diff'rent time
Somewhere, somehow…
But I can only dream of you…
For now…
And going through my days
Trying to hide it from my face
Trying not to let it show
The pain that I feel inside
The pain that keeps on coming back
Seeing you in his arms
But even though I feel the pain
The yearning keeps on going on
The yearning of holding you
Cause this feeling just won't let go
REPEAT REFRAIN
And I can only dream of you…
I can only dream of you…
Yes I can only dream of you… for now…
------------------------------------------------
"I Can Only Dream Of You"
Words and Music by Roy dela Cruz
February 19, 1994
Angeles City
Philippines
Interview with Roy dela Cruz
Reyjr: The song speaks about one of love's tragedies - an unattainable love. What was the inspiration for the lyrics of this song, Roy?
Roy: I love playing 'made up' scenes in my mind, although this was inspired by a friend's story at the time. Didn't really realize that all my works would be applicable to me someday... oops!
Reyjr: Haha. Interesting stuff. Do you enjoy writing music? How do you come up with the melodies for your songs?
Roy: I started writing poems first, and then I learned how to play the guitar. So I toyed up with the idea of putting melodies on some of my poems. Soon, I was composing songs and poems separately. I'm not really a musician, so I just do a "trial & error" of sorts, until I'm satisfied with it.
Reyjr: Where did you learn how to play the guitar?
Roy: I was an altar boy when I was young. I was a member of the Knights of the Blessed Sacrament, one of my friends then knew how to play the guitar. He used to accompany the choir during mass. He taught some of us how to play the guitar, and soon after we were good enough to take his place during his absence. So, you see, I started playing church songs actually :)
Reyjr: A lot of us can relate to that. I started singing in the church choir myself. :) How important is music to you?
Roy: Very important. Just like poetry and blogging. Music is just one way of expressing myself. Like what I always say, I'm not really much of a talker, and I express myself better in writing. Music adds more to the 'effectiveness' of that self-expression.
Reyjr: Do you see yourself writing more songs in the future?
Roy: As long as I can, I will write songs. Maybe they may not see their time in the airwaves in my lifetime. But at least I can leave them with my kids, who are far better musicians than I am. Hopefully, sometime... somewhere... something will happen soon.
Reyjr: Go for it, Roy. :) Thank you!
Click this to Subscribe to Reyjr.com